Views quantity
remove_red_eye
76366 views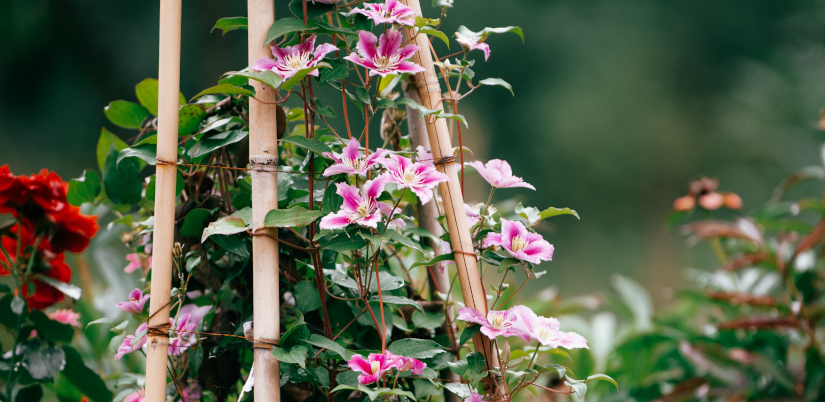 1. Pochodzenie i występowanie
2. Wygląd
3. Warunki uprawy 
4. Zabiegi pielęgnacyjne
5. Zastosowanie
6. Odmiany
Pochodzenie i występowanie
Nazwa rodzaju powojnika (Clematis), pochodzi od greckiego słowa klema - wąs. Należy do niego około 500 gatunków, które rozpowszechnione są w strefach umiarkowanych północnej i południowej półkuli. W Europie rośnie dziko 5 gatunków: Clematis alpina - powojnik alpejski, C. viticella - powojnik włoski, o małych purpurowo czerwonych lub fioletowych kwiatach, C. recta, C. vitalba - powojnik pnący i w rejonach nad śródziemnomorskich C. flammula - powojnik południowy o białych, pachnących kwiatach. Niekiedy w Ameryce Północnej rozmnaża się dziko rosnące gatunki i oferuje jako C. virginiana - powojnik wirginijski i C. crispa - powojnik kędzierzawy. Najbardziej rozpowszechniły się jednak gatunki wschodnioazjatyckie, przeważnie mieszańce. Hodowlę odmian ogrodowych rozpoczęto w Anglii. W roku 1569 przywieziono do Anglii C. viticella i podobno na cześć królowej nazwano Virgin's Bower. Później nazwę tę, zmienioną na Lady's Bower, objęto również wszystkie powojniki uprawiane w ogrodach. 
Wygląd
Dla celów dekoracyjnych wykorzystuje się przede wszystkim gatunki pnące, owijające się za pomocą ogonków liściowych. Liście naprzeciwległe, nieparzystopierzaste lub trójlistkowe. Kwiaty dzwonkowate do prawie płaskich, osadzone pojedynczo lub zebrane w wiechowate kwiatostany, złożone z 4-8 barwnych działek kielicha;płatków korony brak. Owocami są drobne niełupki opatrzone owłosionymi wyrostkami.
Warunki uprawy
Wszystkie powojniki są światłolubne, w skrajnym wypadku znoszą półcień (gatunki pierwotne) i sporadycznie cień (C. vitalba). Wielkokwiatowe odmiany muszą mieć górę części nadziemnej wystawioną do słońca i światła, podczas gdy przyziemna część krzewu powinna mieć zapewniony cień, chłód i odpowiednia wilgotność. Odpowiednie jest więc okrywanie gleby liśćmi, większymi kamieniami, sadzenie osłonowych bylin i kwiatów letnich, ewentualnie karłowatych roślin drzewiastych. Powojników nie należy sadzić przy południowej stronie podpór, idealna jest natomiast wystawa zachodnia lub wschodnia. Gleba powinna być żyzna, o odpowiedniej zawartości wapnia, dostatecznie przepuszczalna. Można przed posadzeniem roślin poprawić strukturę gleby, dodając kompost. Suche stanowiska najlepiej znosi C. vitalba. W zanieczyszczonym powietrzu nie rosną zbyt dobrze. Sadzi się je raczej wiosną niż jesienią. Szczepione wielkokwiatowe odmiany należy sadzić o 
10 cm głębiej niż gatunki pierwotne, żeby ukorzenił się również uszlachetniony zraz. Cała roślina jest wówczas w mniejszym stopniu uzależniona od systemu korzeniowego podkładki i jest bardziej odporna. Jeżeli powojniki sadzimy przy ścianach, to lepiej jest zachować od nich większy odstęp, a rośliny odpowiednio na ścianach poprowadzić. Jeśli posadzi się roślinę blisko przy ścianie, będzie ona cierpieć z powodu braku wody, która tu nie dociera w czasie deszczu. Podczas sadzenia dobrze jest rozłożyć na korzeniach torf lub obornik, ewentualnie liście, żeby gleba nie wysychała.
Zabiegi pielęgnacyjne 
Po posadzeniu roślinę krótko przycinamy. W następnych latach usuwamy co roku suche pędy, a pozostałe odpowiednio skracamy. Cięcie może być dosyć silne, ponieważ większość powojników kwitnie na nowych pędach. Przed zima należy zabezpieczyć roślinę kopczykiem, najlepiej usypanym z liści, zwłaszcza w przypadku odmian wielkokwiatowych. Robi się to, gdy gleba już lekko zmarznie, gdyż podczas zimowania może roślinom bardzo zaszkodzić nadmierna wilgotność.
Zastosowanie
Powojniki, zwłaszcza odmiany wielkokwiatowe, należą do bardzo poszukiwanych i lubianych roślin. Kwitnąc w okresie lata i jesieni, wypełniają lukę wśród kwitnących roślin drzewiastych. Gatunki pnące nadają się do okrywania altan, łuków nad bramami i przy wyjściach, płotów, ścian, pergoli, słupów itp. Niektóre bujniej rozrastające się gatunki (C.vitalba i C.viticella) wspaniale nadają się do okrywania mniej dekoracyjnych drzew, które potrafią przemienić w malownicze kaskady z mnóstwem drobnych kwiatostanów lub w wodospady puszystych owoców po przekwitnieniu. Gatunki te mogą pełnić również funkcje maskujące. Wielkokwiatowe odmiany dobrze komponują się np. z niektórymi bylinami o kontrastowych kwiatach i z pnącymi różami. 
Odmiany
Albina Plena - szwedzka odmiana o uroczych półpełnych białych kwiatach, bardzo odporna na choroby i mróz. Kwitnie od kwietnia do końca maja. 
Purple Spider - ma prawie czarne półpełne kwiaty. Nie lubi gleb suchych, kwaśnych. Nie wymaga cięcia, dobra do obsadzania niskich ogrodzeń. Kwitną dwa razy w roku, najpierw na przełomie kwietnia i maja, a następnie powtórnie w sierpniu, jest to jedna z bardziej odpornych odmian. 
Bałtyk - bardzo wcześnie i obficie kwitnąca polska odmiana o umiarkowanie silnym wzroście. Duże prawie okrągłe kwiaty o kolorze fioletowo liliowym. Rozwijają się w maju i czerwcu. Przycięta po kwitnieniu, latem powtarza kwitnienie. Mało wymagająca odmiana.
Błękitny anioł - to pnącze średnio silnie rosnące. Duże pojedyncze niebieskie kwiaty, pojawiają się na pędach jednorocznych od połowy czerwca do końca lipca. Nie jest odmianą trudna w uprawie.
Cassandra - niebieskie rurkowate kwiaty, rozwijają się od lipca aż do września, swoja wielkością, kształtem oraz silnym zapachem, bardzo przypominają kwiaty hiacyntów. 
Daniel Deronda - jest to bardzo interesująca odmiana o wielkich półpełnych niebiesko granatowych kwiatach. Mrozo odporna i mało wymagająca, kwitnie dwa razy w roku - maj/czerwiec i ponownie sierpień/wrzesień. 
Dr. Ruppel - odmiana o ogromnych pięknych kwiatach dwubarwnych. kwitnie w maju i w czerwcu oraz trochę słabiej od lipca do września. 
Dzieci Warszawy - polska odmiana o dużych jasnofioletowych kwiatach z lekko pofalowanymi działkami. Kwitnie w czerwcu i lipcu, a później mniej obficie we wrześniu. 
Heather Herschell - bylinowa odmiana o ciekawych różowych dzwonkowatych kwiatach. Pora kwitnienia to lipiec, sierpień i wrzesień. 
Jackmani - jest pnączem o fioletowych lub ciemno błękitnych kwiatach. istnieje też odmiana biała, różowa i karminowa. Kwitnie od końca czerwca do września. 
Jan Paweł II - kolory kwiatów mogą być różowe lub białe. Kwitnie od początku lata aż do jesieni, niezbyt obficie. 
Kiri Te Kanawa - odmiana o pełnych, ciemnoniebieskich kwiatach rozwijających się od maja do sierpnia. Szczególnie przydatna do uprawy w niedużych ogrodach i w pojemnikach na balkonach lub tarasach.
Little Mermaid - japońska odmiana o rzadkiej łososiowo różowej barwie kwiatów. kwitnie w maju i czerwcu, a po przycięciu od sierpnia do września.
Markham's Pink - najwcześniej i najobficiej kwitnąca odmiana o uroczych półpełnych purpurowo różowych kwiatach. Pojawiających się od kwietnia do  czerwca. 
Mazury - pełne niebieskie kwiaty. Kwitnie od czerwca do września. Wyglądają jak wykonane z bibułki. 
Mrs. Cholmondeley - jasnoniebieskie duże kwiaty z fioletowymi prążkami. Zakwita w maju i poza krótką letnią przerwą, cieszy oczy do końca sierpnia. Są w pełni mrozoodporne.
Niobe - polska odmiana o ciemnoczerwonych kwiatach z żółtymi pręcikami. Kwitnie w okresie maj/czerwiec, sierpień/wrzesień. 
Nelly Moser - stara odmiana o dużych dwubarwnych kwiatach - jasnoróżowoliliowych, z intensywnie różowym pasem w środku działek i czerwonymi pylnikami. Kwitnie obficie w maju i czerwcu, a już słabiej od lipca do września. 
Perida - uznana za najładniejszą czerwonokwiatową odmianę. Kwitnie od czerwca do sierpnia.  
Polish Spirit - polska odmiana, ma fioletowe kwiat. Kwitnie od czerwca do października. 
Polonez - czerwone kwiaty średniej wielkości z lekko rozjaśnionym środkowym pasem i jaśniejszym spodem. Kwitnie obficie od czerwca do lipca, a potem słabiej we wrześniu. 
Popiełuszko - polska odmiana o jedwabisto-białych kwiatach z kawowymi pylnikami na białych nitkach. Kwitnie wyjątkowo długo i obficie - od maja do października. 
Praecox - roślina okrywowa o dużych ciemnozielonych liściach. W lipcu i sierpniu, dodatkową ozdobą jest tworzący się welon drobnych jasnofioletowych kwiatów. 
Red Star - duże kwiaty, pełne lub półpełne w kolorze czerwonym. Kwitnie od maja do czerwca i ponownie od sierpnia do września. 
Rooguchi - fioletowo granatowe kwiaty z jasnymi brzegami, elegancki kształt dzwonka. Kwitnie nieprzerwanie od czerwca do września. 
Bill McKenzie - drobne, dzwonkowate, intensywnie żółte kwiaty. Utrzymuje kolor zielonych liści do listopada. Kwitnie w lecie i jesieni. 
The President - obficie kwitnąca odmiana o fioletowo granatowych kwiatach. Kwitnie od maja do czerwca i ponownie od lipca do września. 
Ville de Lyon - piękne duże pojedyncze kwiaty o intensywnym karminowo-czerwonym kolorze z ciemnoróżowym pasem pośrodku, gdy kwitną nie sposób ich nie zauważyć. Kwitną od maja do września. 
Paul Farges -  pnącze o liściach zielonych, aż do początku listopada. Latem i jesienią pokrywa się masa gwiazdkowych lekko pachnących kwiatów. 
Purpurea Plena Elegans - fantazyjna odmiana, pokrywająca się masą bordowych kwiatów w stylu retro. Kwitnie obficie od czerwca do września. 
Vyvyan Pennell - imponujące pełne fioletowo-niebieskie kwiaty, rozwijające się od maja do czerwca. 
Warszawska Nike - polska odmiana o ciemnopurpurowo - fioletowych kwiatach ze złocistymi pręcikami. Kwitnie od czerwca do września. 
Westerplatte - polska odmiana o jaskrawych czerwonych aksamitnych kwiatach, bardzo efektowna. Kwitnie od czerwca do sierpnia.
Fay - urokliwa odmiana o dzwonkowatych przewisających jasnoróżowych kwiatach. Kwitnie wyjątkowo długo - od połowy czerwca do końca października. 
Urszula Ledóchowska - duże kwiaty w kolorze białym z czerwonymi pylnikami. Kwitnie obficie w maju i w czerwcu i ponownie może zakwitnąć w sierpniu i wrześniu. 
Guernsey Cream -  ciekawa odmiana, obficie kwitnąca od połowy maja do lipca i ponownie w końcówce sierpnia. Początkowo kwiaty są jasnożółte, a w miarę rozwijania bieleją. 
Duchess of Edinburgh - dwukolorowe białe kwiaty z kilkoma rzędami zielonych płatków w kształcie rozety. Kwitnie od maja do września. 
Blue Pillar - odmiana o zwartej budowie i niebieskich kwiatach. Kwitnie od czerwca do lipca.
Generał Sikorski - niebiesko-fioletowe kwiaty z ozdobnymi, trującymi owocami. Kwitną od czerwca do października. Jedna z najpopularniejszych odmian na  świecie. 
Fujimusume - Wcześnie kwitnąca, wspaniała odmiana wyhodowana w Japonii. Uznana za najpiękniejszą spośród niebieskich powojników. Kwitnie długo i obficie od maja do września, z przerwą w lipcu. 
Comments (0)
No comments at this moment