Views quantity
remove_red_eye
65445 views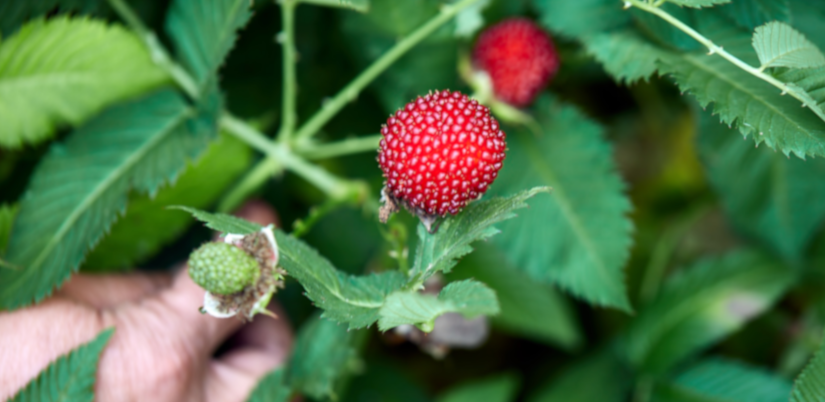 1.Stanowisko dla malinotruskawki  :
Przy wyborze stanowiska dla malinotruskawki powinniśmy poszukać stanowiska słonecznego lub delikatnie zacienionego. 
Jest to roślina, która rośnie na prawie każdej glebie, choć preferowaną gleba powinna być żyzna, przepuszczalna, umiarkowanie wilgotna. 
2.Termin sadzenia
Nasze rośliny są doniczkowane co też pozwala na ich całoroczne sadzenie.
Najlepiej sadzić je jesienią i wiosną, choć możemy to zrobić w całym okresie wegetacji. 
Przy sadzeniu w okresie letnim zwracamy uwagę na kilkukrotne podlewanie rośliny.
3.Technika sadzenia
Przed posadzeniem rośliny, pojemnik w którym się znajduje należy zanurzyć w naczyniu z wodą na ok. 30 minut.
Wykopujemy dołek o głębokości 40 cm. Zaleca sią aby spód wyłożyć kompostownikiem. 
Do tak przygotowanego dołka wkładamy delikatnie naszą sadzonkę aby nie uszkodzić korzeni. 
Zasypujemy korzenie i intensywnie podlewamy. 
Malinotruskawkę można również uprawiać  w donicach na balkonie. Należy jednak pamiętać aby donica była dość dużych rozmiarów. 
W okresie letnim należy pamiętać o codziennym podlewaniu, gdyż malinotruskawka źle znosi przesuszenie. 
4.Pielęgnacja
a)cięcie
Malinotruskwka nie wymaga regularnego cięcia. Wczesną wiosną usuwamy tylko zeszłoroczne pozostałości pędów ( owocuje tylko na pędach jednorocznych)
b)ściółkowanie
Do zabiegu ściółkowania warto użyć drobnej kory bądź trocin. Sadzonki malinotruskawki lubi ściółkowanie- wspomaga ona zachowanie wilgotności gleby oraz utrudnia wzrost chwastów.  
c) nawożenie
Nawożenie zalecane jest wiosną. Warto zastosować nawozy organiczne. 
Related products
Raspberries
The strawberry-raspberry (Rubus illecebrosus Focke), also known as the Japanese raspberry, is a small shrub that reaches 60 cm in height. It exhibits beautiful, eye-catching white flowers, lovely, fresh-green leaves and bears large, intensely red fruit. Grown in a sufficiently large ...
Comments (0)
No comments at this moment